Woozy face, ginger heads and one for the baldies.

...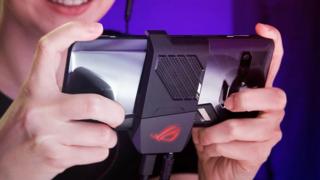 Image copyright
Asus
Image caption
A gaming phone with a removable fan, and a dual-screen laptop are among the new gadgets on show at the Computex conference in Taiwan.
Computer giant Asus revealed a powerful handset designed for gamers that comes with a clip-on fan to keep it cool during "strenuous gaming sessions".
It also showed off new laptops with dual screens, which it plans to sell in 2019.
But rival Lenovo was criticised for over-hyping its "all screen" phone.
One for gaming fans
Asus's gaming phone is the first Android-powered smartphone to be produced under the Republic of Gamers brand.
Its screen is capable of displaying 90 frames per second (fps) - more than regular phones - to make games play more smoothly.
There is also a range of accessories, including clip-on controllers that are vaguely reminiscent of the Nintendo Switch console.
Image copyright
Asus
Image caption
A clip-on fan is also included in the box to stop the high-performance phone overheating.
Technology news site The Verge said it was the "highest-specced Android phone ever[1]", although there are not many games available on Android that take full advantage of the souped-up hardware.
Specs appeal
Computers powered by Intel chips typically have central processing units (CPUs) with four or six cores, allowing them to throw more "brainpower" at tasks when needed.
At present, Intel's top-end chips - the X-series - feature 18 cores, and cost up to $1,799.
Image copyright
Intel
Image caption
But, at Computex, Intel revealed it was working on something substantially more powerful - a 28-core processor suitable for desktop computers, which is due to go on sale before the end of the year.
The chips will be based on Intel's existing 14-nanometre production process.
The move may help compensate for the fact that Intel's 10-nanometre chips are long overdue because of production issues.Shrinking the transistors to a smaller size should offer efficiency gains that mean power users will require fewer cores.
However, gamers who might be tempted should be aware that many titles cannot take advantage of more than four cores.
Intel has made 28-core chips before, but those Xeon series processors were designed for high-end computer servers rather than an individual's use.
Are two screens better than one?
Image copyright
Asus
Image caption
Image copyright
Asus
Asus also revealed a range of new laptop computers with two screens.
The trackpad on its new Zenbook Pro has been replaced with a 14cm (5.5in) touchscreen that can display photographs, menus and tools such as a calculator or calendar.
There was also a concept laptop with two screens instead of a keyboard, which the company has called Project PreCog.
Image copyright
Asus
Image caption
"Even in laptops, the goal is to be all screen," said Isa Rodriguez, from the technology site Gadget Match.
Over-hyped
However there was disappointment when Lenovo revealed its new Z5 smartphone.
Image copyright
Lenovo
Image caption
In May, the company had shared images online that implied the phone would be "all screen" on the front, rather than having the "notch" that appears on the iPhone X and imitators.
Critics said Lenovo had posted misleading images and that the actual announcement was "disappointing".
"The new phone, which was teased to be a nigh bezel-less display without a notch or a chin, has debuted with both of them present," wrote Michael Allison, from news site Neowin[2].
Chinese phone-maker Vivo may instead become the first company to release a genuinely "all screen" phone.
It plans to unveil its Nex phone - which features an in-screen fingerprint reader and a selfie camera that pops out of its side - on 12 June....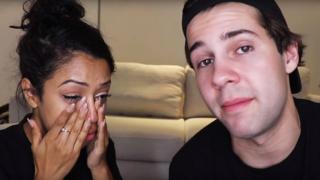 Image copyright
David Dobrik / YouTube
YouTube couple David Dobrik and Liza Koshy have announced their separation in an emotional video online.
The pair had dated since 2015 and built a combined audience of more than 20 million Youtube followers.
The say in their video they split six months ago but waited until this week to tell their fans.
"It wasn't healthy for us to continue to be together - for now," says David in the six minute video.
"You never know what could happen, but just not now."
They both admitted the pressure of their YouTube careers had been a factor in their split.
(Warning:contains language some viewers may find offensive)
"Liza broke up with me because she felt like we've been distant because we've been so busy," David added.
"As much as I hate to admit it, I was feeling it on my side too but I just don't have the balls to pull the trigger on that."
"We felt like we were living separate lives but neither of us was coming to terms with it," said Liza.
"So I decided we should break up.We didn't want to tell anybody because we were just so angry at the fact we distanced in the first place."
"We did nothing to each other to cause a break up.
"We have a lot of growth and development and learning and loving to do."
The American couple both insist they are best friends and that their break-up is amicable.
Could the split impact their career?
David and Liza have been described as the Posh and Becks of YouTube.But Tassilo Labuzinski, the founder of branding company Socially Powerful, says their separation should have little impact on their individual status or future earnings.
"I don't see the break-up being a negative thing for either of them," Tassilo tells Newsbeat."I think it's oversimplified to say they are the Posh and Becks of the internet and they only come as a package."
He also believes fans of the pair's "tongue in cheek, quick and witty" content would be understanding if they got back together.
"The couple are free to take it any way they want," he adds."They could make another video and say;'Look, we've actually decided we love each other too much and we want to be together,' and that's going to get more attention.
"I don't think there's going to be a negative backlash on them in any form."
In early 2018, Newsbeat made a documentary about the pressures on YouTube couples to stay together.
Many fans of David and Liza have reacted with shock and upset to the news.
Others have praised the message shared by the couple in their break-up video.
And some are holding out hope that their split will be temporary.
Follow Newsbeat on Instagram[1], Facebook[2] and Twitter[3].
Listen to Newsbeat live[4] at 12:45 and 17:45 every weekday on BBC Radio 1 and 1Xtra - if you miss us you can listen back here[5]....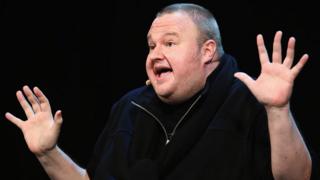 Image copyright
Getty Images
Internet entrepreneur Kim Dotcom has announced that he would like to build a new social network.
He described Facebook and Twitter as "deep state conspirators" and said it was "time for something better".
Writing on Twitter, he also invited CIA whistleblower Edward Snowden, Wikileaks founder Julian Assange and the German hacker association Chaos Computer Club (CCC) to join him.
Mr Dotcom is currently fighting extradition to the US from New Zealand.
He is wanted there to stand trial for copyright infringement and fraud, which he has consistently denied.
"All it takes is a real alternative with real privacy protection and zero censorship from a trusted source and Twitter will become the next MySpace, an online ghost town," he tweeted.
Mr Dotcom conducted a Twitter poll asking his 732,000 followers whether Twitter was "in bed with the deep state" and 89% of just under 20,000 voters responded yes.
Cyber-security expert Prof Alan Woodward, from Surrey University, said the issue revolved around trust.
"Do you trust Kim Dotcom, Julian Assange, et al more than those running Twitter, Facebook?" he said.
"All these networks go through growing pains and I suspect that Facebook and Twitter have learned a few lessons recently.Perhaps any new social network would simply have to learn in the same way.
"Maybe this is a case of better the devil you know than the devil you don't."...
A simulator teaches robots how to perform tasks by breaking them down into small steps.

...