Strangers are sharing unwanted food in a bid to save money and reduce food waste.

...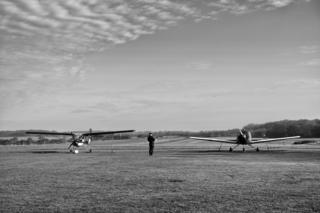 Image copyright
John Brockliss
Once home to squadrons of Spitfires, the airfield at Deanland near Hailsham in East Sussex has become the inspiration for an artistic collaboration between multimedia visual artist Alexander Johnson and photographer John Brockliss.
RAF Deanland was hastily constructed in 1943 ahead of the Allied invasion of France the following June - D-Day.Alexander's late father, Don, had flown in Spitfires during World War Two as part of a photo-reconnaissance unit and it was his albums that inspired Alexander to create a series of artworks dedicated to those who served at the site.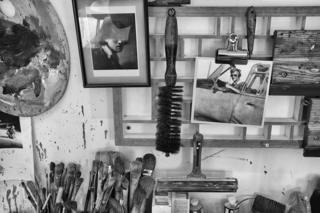 Image copyright
John Brockliss
Photographer John Brockliss set about documenting the process, initially for publicity purposes, but they both soon realised that his photographs stood alongside the art, offering an intimate insight into the artistic process.And so the collaborative project began.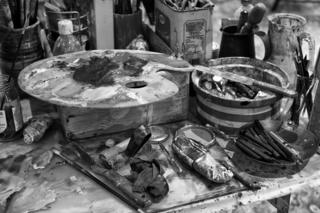 Image copyright
John Brockliss
Image caption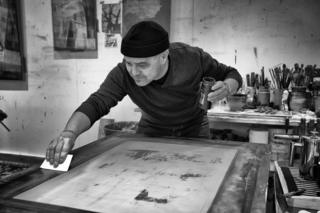 Image copyright
John Brockliss
Image caption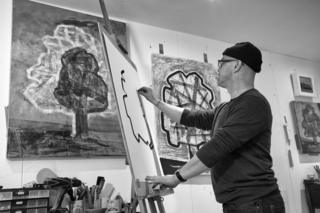 Image copyright
John Brockliss
Image caption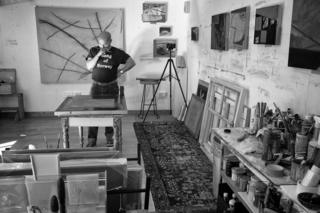 Image copyright
John Brockliss
Image caption
Deanland's role in the war was short-lived - by the end of 1944 it was no longer in use by the RAF, eventually falling into private hands, and today it is a grass strip for light aircraft.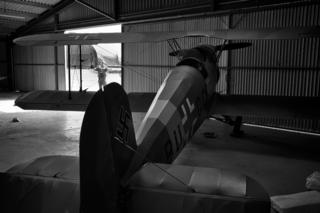 Image copyright
John Brockliss
Image caption
Today very little remains of the airfield's former life so Johnson has blended historic details with textures from the present-day site, using his imagination to bring it to life.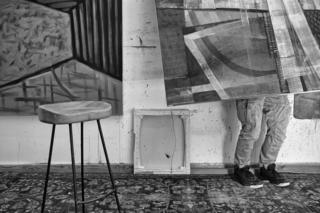 Image copyright
John Brockliss
Image caption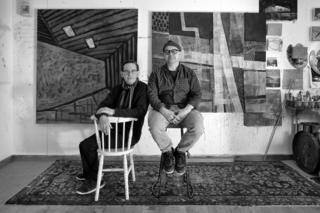 Image copyright
John Brockliss
Image caption
Deanland can be seen at 35 North Contemporary Fine Art Gallery in Brighton[1], from 8 June to 21 July....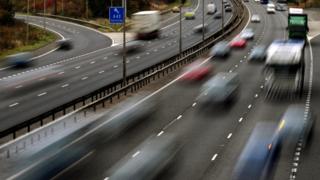 Image copyright
PA
Image caption
Learner drivers in England, Wales and Scotland are now allowed to have lessons on the motorway.
Previously only those who have passed their test could do so, but lessons are now allowed in a dual-control car with an approved driving instructor.
The government says the move will help learners gain experience to drive safely.
The law change has been welcomed by the AA and RAC Foundation, among other motoring groups.
Road safety minister Jesse Norman said:"Britain's roads are among the safest in the world, but road collisions remain the second biggest killer of young people.
"Allowing learner drivers to have motorway lessons with a qualified road safety expert will help more young drivers to gain the skills and experience they need to drive safely on motorways."
As many as 8% of licence holders avoided motorways for at least six months after passing their test, an AA poll of more than 20,000 motorists suggests.
More than a quarter said they felt scared when they did drive on a motorway for the first time.
Edmund King, director of the AA Charitable Trust, said:"Young drivers are drastically over-represented in crashes.
"This change, which will help broaden the opportunities they have while learning, is very positive.
"It is somewhat perverse that five minutes after passing the driving test a new driver could venture alone on to a motorway without having had any motorway tuition."
---
Top tips for learners
Instructor Sharon Starr, whose driving school is based in Stoke Newington, north London, is in favour of the plans - but says that many instructors do not offer motorway lessons as they perceive them to be more dangerous.She has this advice for first-time motorway drivers:
Keep calm.The most important thing is to keep calm, and remember your instructor is there to help if you have a problem.Motorways are similar to dual carriageways - which learners have already driven on - so it's the same but a bit faster.
Plan ahead. Sometimes you need to ease off the accelerator to create the gap ahead.You need to build up speed quite quickly when you are joining the motorway.
Don't hesitate. If you hesitate while joining the motorway or changing lanes you can put yourself or other drivers in danger.Once you've begun to move, they are expecting you to go.
Watch speed limits.Lots of people don't realise the speed limit isn't always 70mph.There are many stretches where it is 50mph and this is enforced by average speed cameras so you need to be careful.
---
A fifth of all fatalities on Britain's roads in 2016 involved crashes where a driver was aged 17-24, despite those drivers making up just 7% of all licence holders, Department for Transport figures show.
There were 1,810 deaths on UK roads in the year to September 2016.
Road safety charity Brake urged the government to introduce a graduated driver licensing system including restrictions for a certain period after passing the test, such as a late-night driving curfew.
Director of campaigns Joshua Harris said:"While today's move is a small step in the right direction, a total overhaul in the way in which we learn to drive is urgently needed."...
Read more https://www.bbc.co.uk/news/uk-44350285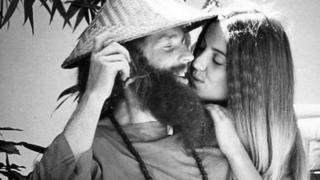 Image copyright
Hugh Milne
Image caption
Hugh Milne was a disciple of Indian "sex guru" Bhagwan Shree Rajneesh from his very early days but his dream of an enlightened community based on love and kindness came crashing down in spectacular style.
The popular Netflix series Wild Wild Country documented how the charismatic but controversial Rajneesh relocated from his ashram in India to create a commune for thousands of followers on a 64,000-acre ranch in in the US State of Oregon.
Over a five-year period there were legal confrontations and tensions with residents as well as attempted murder, election rigging, arms smuggling and a mass poisoning that still ranks as the largest bio-terror attack in US history.
Image copyright
Hugh Milne
Image caption
Hugh Milne, from Edinburgh, spent almost a decade at close quarters with the mystic, who is reckoned to have had 90 Rolls Royces.
Over that period, Rajneesh inspired him, slept with his girlfriend and sent him to do hard labour.
For many years Hugh served as the Bhagwan's bodyguard, with the main task of stopping his followers touching him.
In the decade that Hugh was with him, Rajneesh presided over the rapid expansion of a movement from "20 followers to 20,000".
"These are not 20,000 people who are buying a magazine," Hugh says.
"These are people who have left home, left their families, given up everything and will work 60 to 80 hours a week for no pay and live in dormitories.
"It's that kind of commitment."
Image copyright
Hugh Milne
Image caption
Hugh, who is now 70, was born in Lanark because it was only natural child birth centre in Scotland.
He grew up in Edinburgh, where his family were linked to the Kingston Clinic, founded by his grandfather James C Thomson, who promoted natural cures such as hydrotherapy.
In 1973, after finishing his training as an osteopath, 25-year-old Hugh went to India after hearing the teachings of Rajneesh on audio cassettes.
Image copyright
Hugh Milne
Image caption
"When you meet such a remarkable man it has an extraordinary impact on your being," says Hugh, who in India went by the name of Swami Shivamurti.
"I thought 'what a wonderful, wise, kind, loving, sentient being this is'.
"I wanted to sit at his feet and learn from him."
Image copyright
Hugh Milne
Image caption
Hugh, who published a book about Bhagwan called The God That Failed, says he was never a God in the Christian sense.
"I saw him as a highly-evolved human being with extraordinary gifts of perception and understanding," he says.
He says Bhagwan, who adopted the name Osho in the years before his death in 1990, was a "chameleon" who became whatever people needed him to be.
Image copyright
Hugh Milne
Image caption
Although Hugh says he found his one-to-one meetings with Rajneesh, known as dharshans, "quite revelatory", he still struggled with life in India at first.
Within the first 18 months Bhagwan began to sleep with Hugh's girlfriend and then sent him away to work on a farm in one of the hottest parts of India.
Hugh says Rajneesh, who was in his early 40s at the time, had "special" darshans with female followers at four in the morning.
"He got the soubriquet The Sex Guru in part because he talked a lot about sex and orgasm in his public lectures and partly because it was quite well-known that he slept with his female followers," Hugh says.
Image copyright
Hugh Milne
Image caption
Hugh admits that he was jealous and considered leaving the ashram but he says some part of him thought it would work out for the best.
"I knew he was a sex guru.It was par for the course," he says.
"We were all sexually liberated.Very few people were monogamous.It was a different context in 1973."
Hugh says his relationship with his girlfriend had a "new quality" after the special darshans but it was shortlived because Bhagwan sent him to a farm 400 miles away.
When he came back he became the bodyguard of Ma Yoga Laxmi, Rajneesh's personal secretary.
She had been violently attacked when a follower, or sannyasin as they are called, had been denied a darshan.
Laxmi told Hugh he needed to guard Bhagwan as well.
Image copyright
Hugh Milne
Image caption
Rajneesh claimed to be uncomfortable with the idea of denying his followers access to him but Hugh says the guru could not stand people touching him or kissing his feet.
"He found it distasteful," he says.
For the next seven years, Hugh was one of the high-level sannyasins who created a "certain sanctity" around Bhagwan.
Another of the inner circle was Ma Anand Sheela, who features heavily in the Netflix documentary about the Oregon commune.
Sheela was Indian but went to college in New Jersey and married an American before returning to study with Bhagwan.
Image copyright
Hugh Milne
Image caption
Hugh says he worked alongside Sheela when they were running the canteen of the ashram in Pune, which was growing in size as the Bhagwan attracted more followers.
Hugh says he and Sheela had an intense affair for a month before her husband asked Rajneesh to stop it.
After it ended Sheela's demeanour to Hugh changed and it caused him problems as she rose up the ashram hierarchy, replacing Laxmi as Rajneesh's personal secretary.
It was Sheela who was the driving force behind the commune's move to Oregon.
Rajneesh was attracting controversy in India and he wanted an ideal place to extend and settle a new community with tens of thousands of followers.
Image copyright
Samvado Kossatz
Image caption
Sheela bought the Big Muddy Ranch in Oregon in 1981 with little regard to local laws and set the Sannyasins to work on building a new city based on Rajneeshi beliefs.
"I regard Oregon as a mistake," says Hugh."It was a disastrous choice."
He says they were in contravention of local laws right from the start.
Sheela and a small band of followers did everything they could to be able to continue with their plans.
Image copyright
Hugh Milne
Image caption
This involved harassing and intimidating the people of nearby Antelope before moving to larger targets and plotting to kill State government officials.
More than 750 people contracted salmonella when salad bars at local restaurants were poisoned by the Sannyasins in an attempt to rig an election.
The Rajneeshis claimed they were being persecuted by the authorities and the conservative establishment but Hugh says they brought trouble on themselves by having so little care for the rule of law.
By April 1982, Hugh says he was having doubts about the commune.
Image copyright
Hugh Milne
Image caption
It was no longer about love and kindness and meditation, he says.
Hugh was working as an osteopath in the health centre on the ranch.
The Sannyasins, who were working 80 to 100 hours a week to build the commune, were "falling apart".
He says Sheela's directions on how to treat them when they came to health centre were "inhuman".
"She said 'give them an injection and send them back to work'," Hugh says.
Image copyright
Hugh Milne
Image caption
On another occasion, he was forbidden to go looking for a friend who had capsized in his canoe on the river and ordered to go back to work.
"I thought 'we are becoming a monster'," he says."Why am I still here?"
Hugh left Oregon in November 1982.
"For a period I was a basket case," he says.
"I was so confused and torn apart, I could not handle things."
He spent six weeks in a psychiatric hospital before trying to rebuild his life.
Hugh says he spent some time working as an osteopath in Edinburgh before he moved to London, Zurich and California, where he has been since 1985.
He says the events depicted in the documentary series Wild Wild Country largely took place after he left and he knew very little about the full extent of what Sheela was doing.
But did Rajneesh know what Sheela and her supporters were up to?
"I have no doubt at all that he knew," says Hugh....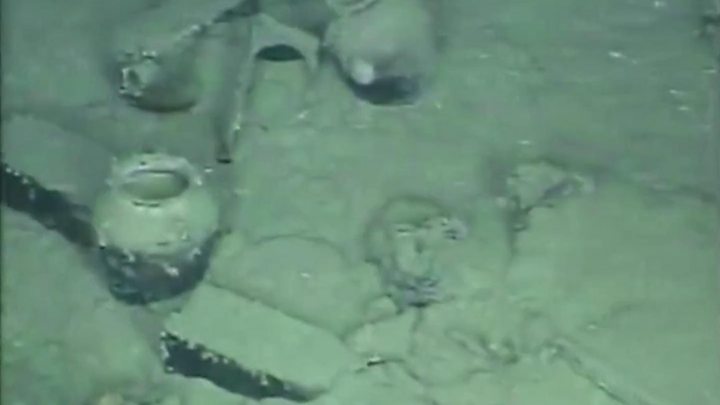 Media playback is unsupported on your device
Media caption
The San José is known as the "holy grail" of shipwrecks
New details have emerged about the San Jose, a Spanish galleon sunk by British ships 300 years ago.
The vessel was said to be transporting gold, silver and precious gems collected in the South American colonies to be shipped to Spain's King Philip V to help finance the war of Spanish succession.
Colombia said it first discovered the wreck, located somewhere off the coast of Cartagena, in 2015.
Last year, the president Juan Manuel Santos said[1] the salvage operation "begins a new chapter in the cultural and scientific history, not only of Colombia but of the entire world".
Meanwhile, a team of marine archaeologists, with the help of an underwater robot, started an investigation and have published new information about what has been uncovered so far.Some people have already speculated it could be the most valuable shipwreck of all time and worth billions.
The San Jose is one of thousands of shipwrecks around the world and excavating historic cargo is an enticing prospect for archaeologists and treasure hunters.
So, who has the rights to a shipwreck?
Image copyright
AFP
Image caption
There are international agreements that have rules for some parts of the treasure-hunting process.
However, the decision of who is entitled to keep the contents of a valuable vessel tends to end up being made between countries under international law, says Robert Mackintosh, a lawyer and archaeologist at Southampton University.
"It's a very complex picture, as a lot of states and people can have a lot of different and often competing interests in wrecks, interests which have their origins in various different bodies of law," he said.
For example, the ship's original owner has a viable right to ownership.But that right can be superseded by the country which owns the national waters in which the ship was discovered.
'Plucked out of the air'
"The ocean is the world's greatest museum," says marine archaeologist Peter Campbell.
And hunting for treasure on sunken ships is big business.
Speculation about the value of the contents of a wreck can skyrocket even before items have been removed.
But often the operational costs of the archaeological investigation can be higher than the value of the wreck itself, says Mr Campbell.
News reports suggest the contents of the San Jose might be worth up to $17bn (£12.7bn).Although when the Colombian government went public with the discovery in 2015, the estimated value of the treasure reported was between $1bn and $10bn.
That $17bn figure "seems to have been plucked out of the air", says Mr Campbell.
Even so, experts agree that the San Jose has immense financial and cultural value.
Image copyright
EPA
Image caption
What does the law say?
The 2001 Unesco convention on underwater cultural heritage includes rules to help guide best practice for underwater excavations and guidelines regarding the qualifications required for people involved in conservation and site management.
The part of Unesco that oversees underwater heritage sites told the BBC it would be delighted to play a role settling claims over shipwrecks.However, it says it has not been approached to act in that capacity.
A country may claim ownership of a wreck if it owned the ship in the first place.Even if a vessel was sunk and abandoned for hundreds of years the original owner can still claim ownership rights.
There have also been cases of a country transferring ownership of the ship to another country for the vessel to be displayed in a museum.
Image copyright
AFP
Image caption
However, ownership can be complicated by the location of the wreck if it lies in the territorial waters of another state.
Under international law, a country has complete sovereignty over these waters and so essentially can do what it wants in terms of taking ownership, says Mr Mackintosh.There are further legal ramifications if the wreck lies in international waters.
When a ship has been discovered, the country where the ship was registered can point to something called sovereign immunity (in addition to claims of ownership).This refers to a specific category of ships that are immune from legal proceedings by another state.Warships and other government ships operated for non-commercial purposes enjoy sovereign immunity, says Mr Mackintosh.
Under the sovereign immunity principle in 2009, a judge in the US ruled the court lacked jurisdiction over a case involving a treasure hunting company called Odyssey Marine Exploration and the wreck of the Spanish ship the Nuestra Senora de las Mercedes.
Image copyright
EPA
Image caption
The US company was ordered to give half a million[2] gold and silver coins to the government of Spain.The company had unearthed the 17 tonnes of coins off the coast of Gibraltar and transported them to the US.
Odyssey said they found the wreck in international waters and claimed salvage rights.Spain said it had never relinquished ownership of the ship's cargo and the coins were part of the country's national heritage.
The origins of contents of a ship may also be disputed.For example, in the case involving Odyssey and the Mercedes shipwreck, Peru submitted claims to US courts that stated that the origin of the precious cargo was Peru where the coins were mined and minted while it was part of the Spanish empire.
Read more from Reality Check[3]